FLEXEON DT-10000A REVERSE OSMOSIS SYSTEM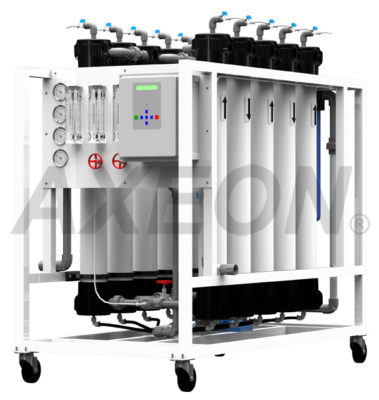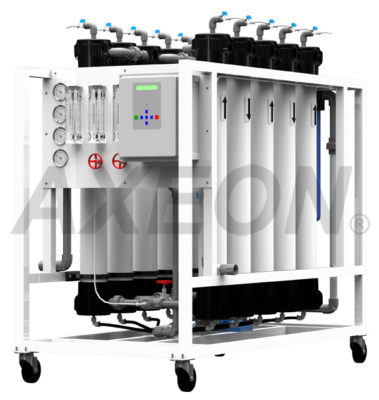 A one-time price of
$13,800.00
will be added to your order.
FLEXEON DT-10000A REVERSE OSMOSIS SYSTEM
FLEXEON DT-Series
FLEXEON DT-Series Reverse Osmosis (RO) Systems are designed and manufactured for commercial and light industrial applications. These systems have been engineered for capacities ranging from 10,000, 15,000 and 20,000 gallons per day and for municipal and well water supplies. FLEXEON DT-Series RO Systems come pre-assembled, fully tested, preserved and sanitized and only require simple utility connections once on site. Systems come ready for immediate on-line service, minimal set up and with little adjustment required. The simple, high quality and proven design of FLEXEON DT-Series RO Systems have made these systems become known as turn-key, cost effective and reliable water purification systems. FLEXEON DT-Series Reverse Osmosis Systems are designed for overall high performance, high recovery rates, minimal energy consumption and offer great savings with low maintenance and operation costs. These systems feature a space saving expandable design, exceptional pre-filtration, quality components and allow for many options and upgrades to suit most applications. The major components of the FLEXEON DT-Series Reverse Osmosis Systems are supported by a rigid aluminum frame and designed in such a way to provide ease of access for servicing, maintenance, and monitoring performance.  
PRODUCT SPECIFICATIONS
| | |
| --- | --- |
| Models | DT-10000 |
| | Advanced (A) |
| Frame |   |
| White Powder Coated Aluminum Frame | ✓ |
| Controls |   |
| S150 Computer Controller | ✓ |
| LCD Controller Display | ✓ |
| Pre-Treatment Lockout | ✓ |
| Tank Level Input | ✓ |
| Feed Solenoid Valve | ✓ |
| Concentrate Recycle Valve | ✓ |
| Feed Low Pressure Switch 15-30 PSI | ✓ |
| Instrumentation |   |
| AXEON® Permeate Flow Meter | ✓ |
| AXEON® Concentrate Flow Meter | ✓ |
| Concentrate Recycle Flow Meter | ✓ |
| AXEON® 316 Stainless Steel Concentrate Valve | ✓ |
| AXEON® 0-100 psi Pre-Filter In Pressure Gauge | ✓ |
| AXEON® 0-100 psi Pre-Filter Out Pressure Gauge | ✓ |
| AXEON® 0-300 psi Pump Pressure Gauge | ✓ |
| 0-300 psi Final Concentrate Pressure Gauge | ✓ |
| Controller Permeate TDS Monitoring | ✓ |
| Controller Feed TDS Monitoring | |
| Features |   |
| Feed Flush | ✓ |
| AXEON® 10 Micron Filter Bag | ✓ |
| AXEON® 5 Micron Sediment Pre-Filter | ✓ |
| AXEON® by Pentek® Single O-Ring Filter Housings | ✓ |
| AXEON® HF1 Low Energy RO Membranes | |
| AXEON® HF4 Extra Low Energy RO Membranes | ✓ |
| AXEON® PVC Membrane Housings | ✓ |
| Goulds® Multi-Stage Booster Pump | ✓ |
| Goulds® Multi-Stage Stainless Steel Booster Pump | |
| Chemical Pump Outlet | ✓ |
| Permeate Sample Valves |   |
More Product Specifications
| | |
| --- | --- |
| Models | DT-10000 |
| Design | |
| Configuration | Single Pass |
| Feed Water Source*** (ppm) | TDS < 2000 |
| Standard Recovery Rate | 55% |
| Recovery with Concentrate Recycle | Up to 75% |
| Rejection and Flow Rates | |
| Nominal Salt Rejection | 98.5% |
| Permeate Flow (gpm / lpm) | 6.94 / 26.27 |
| Minimum Feed Flow (gpm / lpm) | 12.94 / 49.00 |
| Maximum Feed Flow (gpm / lpm) | 28.00 / 106.00 |
| Minimum Concentrate Flow (gpm / lpm) | 6.00 / 22.71 |
| Connections | |
| Feed | 2" FNPT |
| Permeate | 1" FNPT |
| Concentrate | 1" FNPT |
| Membranes | |
| Membrane Per Vessel | 1 |
| Membrane Quantity | 6 |
| Membrane Size | 4040 |
| Vesels | |
| Vessel Array | 2:2:2 |
| Vesel Quantity | 6 |
| Pumps | |
| Pump Type | Multi-Stage |
| Motor (HP) | 3 |
| RPM @ 60 (50 Hz) | 3450 (2900) |
| Electrical | |
| Standard Voltage | 220V, 60Hz, 1PH, 16.0A |
| Voltage Options | 220V, 50Hz, 1PH, 17.0A 220V, 60Hz, 3PH, 18.1A 220V, 50Hz, 3PH, 19.1A 380V, 50Hz, 1PH, 5.3A 460V, 60Hz, 3PH, 4.6A |
| System Dimensions** | |
| L x W x H (in / cm) | 49 X 33 X 54 / 125 X 84 X 137 |
| Weight (lb / kg) | 350 / 159 |
  Operating Specifications
Maximum Feed Temperature (°F / °C)
85 / 29.00
Maximum Free Chlorine (ppm)
0
Minimum Feed Temperature (°F / °C)
40 / 4.44
Maximum TDS (ppm)
2000
Maximum Ambient Temperature (°F / °C)
120 / 48.89
Maximum Hardness (gpg)
0
Minimum Ambient Temperature (°F / °C)
40 / 4.44
Maximum pH (Continuous)
11
Maximum Feed Pressure (psi / bar)
85 / 5.86
Minimum pH (Continuous)
5
Minimum Feed Pressure (psi / bar)
45 / 3.10
Maximum pH (Cleaning 30 Min.)
12
Maximum Piping Pressure (psi / bar)
150 / 10.34
Minimum pH (Cleaning 30 Min.)
2
Maximum SDI Rating (SDI)
<3
Maximum Turbidity (NTU)
1