AXEON L1-200 Series Reverse Osmosis System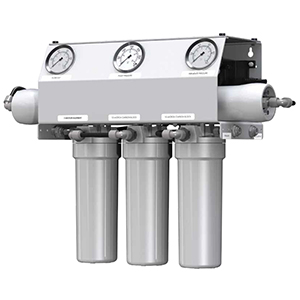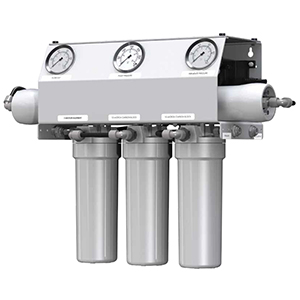 AXEON L1-200 Series Commercial Reverse Osmosis System 200 gpd 
AXEON L1-200 Series Reverse Osmosis Systems are manufactured in the USA and designed for light commercial applications. Featuring a compact wall mount design, the L1-200 can be installed in areas where space is at a premium. AXEON L1-200 Series Reverse Osmosis Systems require minimal set up and come pre-assembled for immediate on-line service.
Includes Aquatec components including high flow booster pump
Features John Guest quick connect fittings with locking clips
Includes 5 micron sediment prefilter and 10 micron carbon prefilter and postfilter
Uses AXEON HF4 Extra Low Energy Membrane
Uses AXEON glycerine-filled pressure gauges
The AXEON L1-Series replaces the Flexeon LT-Series, and introduces some features that were not previously offered. The L1-Series includes three pressure gauges to monitor prefilters and pump pressure.
AXEON L1-Series Reverse Osmosis Systems have been engineered for capacities of 200 and 300 gallons per day and feature a single pump design for enhanced performance.
Standard Features
AXEON® 5 Micron Sediment Pre-Filter
AXEON 10 Micron Carbon Block Pre-Filter and Post-Filter
AXEON by Pentek® 10" Slim Line Filter Housings
AXEON HF4 Extra Low Energy Membrane
AXEON FRP-300E Fiberglass Membrane Housing
AXEON 0 – 300 psi Glycerin-Filled Pump Pressure Gauge
AXEON 0 – 100 psi Glycerin-Filled Pre-Filter Pressure Gauge
AXEON 0 – 100 psi Glycerin-Filled Permeate Pressure Gauge
John Guest® Push/Pull Fittings with Locking Safety Clips
Aquatec® High Flow Booster Pump
Aquatec Tank Pressure Switch
Aquatec Feed Solenoid Valve
Aquatec Auto Flush Timer Valve
Options and Upgrades
Product Water Storage Tanks
AXEON HF5 Ultra Low Energy Membrane (For Cold Water Applications)
AXEON 2521 SS-250E Stainless Steel Membrane Housing
HM Digital® DM-2 TDS Meter AXEON by Pentek 20" Slim Line Filter Housings